Emerging and re-emerging infectious diseases: challenges and opportunities for militaries
Zheng Jie Marc Ho

1

Email author

,

Yi Fu Jeff Hwang

1 and

Jian Ming Vernon Lee

1
Military Medical Research
2014
1:21
Received: 14 May 2014
Accepted: 7 August 2014
Published: 24 September 2014
Abstract
The communal nature of living and training environments, alongside suboptimal hygiene and stressors in the field, place military personnel at higher risk of contracting emerging infectious diseases. Some of these diseases spread quickly within ranks resulting in large outbreaks, and personnel deployed are also often immunologically naïve to otherwise uncommonly-encountered pathogens. Furthermore, the chance of weaponised biological agents being used in conventional warfare or otherwise remains a very real, albeit often veiled, threat. However, such challenges also provide opportunities for the advancement of preventive and therapeutic military medicine, some of which have been later adopted in civilian settings. Some of these include improved surveillance, new vaccines and drugs, better public health interventions and inter-agency co-operations. The legacy of successes in dealing with infectious diseases is a reminder of the importance in sustaining efforts aimed at ensuring a safer environment for both military and the community at large.
Keywords
Communicable diseasesEmergingInfectious disease medicineMilitary personnel
Introduction
Emerging and re-emerging infectious diseases are threats that military organisations have to guard against, as they cause substantial impact to operations and training. These diseases may arise from within the military community, as spill-over from the surrounding civilian populace, or during military operations and deployments. Biological warfare and bioterrorism are additional possibilities that militaries need to be prepared for.
Since historical times, emerging infectious diseases have impacted militaries, from the Plague of Athens in 430 BC during the Peloponnesian War linked to the poisoning of water reservoirs by the Spartans [1], and the similar Antonine Plague in 166 AD brought back by returning Roman soldiers from the Parthian War [2, 3]. The Thirty Years War from 1618 to 1648 also saw the devastating effects of Typhus (alongside Plague and accompanying starvation) which resulted in 10 million deaths [4], overshadowing 350,000 combat deaths. The weaponisation of naturally occurring diseases, the threat wrought by travelling soldiers returning home with novel diseases, and the disproportionate impact of disease and non-battle injuries (DNBIs) are still relevant to militaries of today. In more recent times, there have been outbreaks reported among military personnel in both peacetime and field deployments. These include a peacetime Salmonella outbreak in a military establishment in India in 2011 due to possible contamination of food [5], the 2013 scabies outbreak among the Queen's Guards in the United Kingdom after a military exercise in Germany [6], and travellers' diarrhoea among U.S. military troops deployed during a training and humanitarian mission in El Salvador in 2011 [7].
Deployment of militaries to foreign grounds also exposes troops to local endemic diseases. A classic example of this is malaria. During World War II and the Vietnam War, 124,109 and 24,606 respective cases among U.S. military personnel deployed to the Southwest Pacific and Vietnam were reported [
8
,
9
]. Such infectious diseases have been shown to impact militaries significantly, not only in mortality and morbidity, but also in operational readiness. Even training during peacetime is affected by disease outbreaks, sometimes resulting in the unexpected suspension of military operations [
10
].Unlike civilian settings, the military may acquire emerging and re-emerging infectious diseases from a myriad of origins and these often spread more readily, posing unique challenges to their prevention and control. At the same time, the frequency and extent of outbreaks in military settings provide opportunities to understand these diseases, and to develop new strategies (Figure
1
). This review discusses some of the challenges militaries face from infectious diseases, as well as the societal benefits that militaries have brought to the world as these diseases are managed.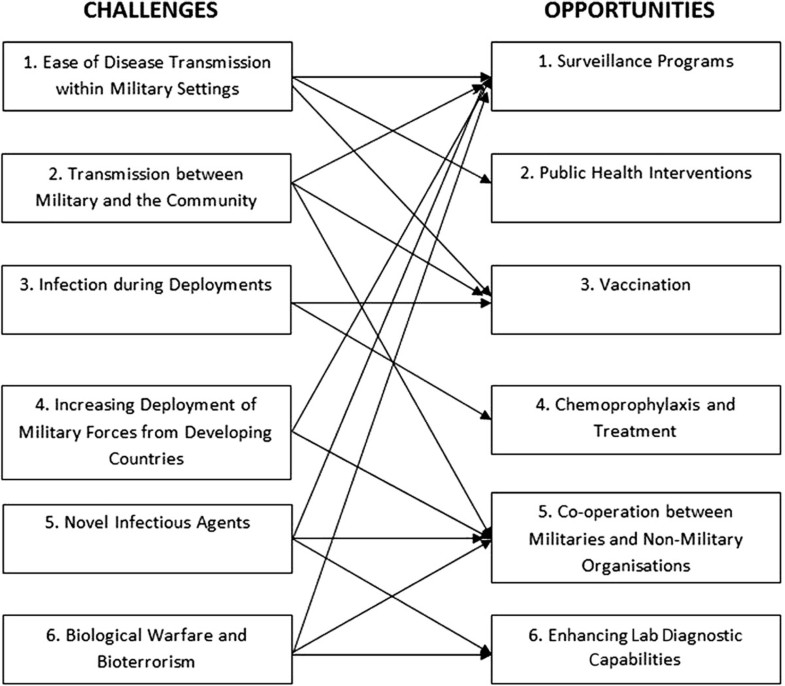 Challenges in the military environment
Opportunities for militaries
Amidst these challenges, there are also multiple opportunities afforded for advancements in the prevention and control against infectious diseases in military settings, and history has shown how military medicine has risen to previous challenges.
Conclusion
Although the ever-changing infectious diseases scene and harsh operational and training environment pose unique and sometimes seemingly daunting challenges to military organisations, it also presents many opportunities for scientific advancements in the areas of prevention, mitigation and control. From surveillance to treatment and public health measures, the field of infectious diseases in the military has, more than ever before, many puzzles waiting to be solved. Military healthcare providers and administrators involved in this worthwhile endeavour should also be encouraged that the work they do goes beyond accruing direct benefits for militaries, often flowing to the greater community at large. As such, continued investment in military surveillance, research and management of infectious diseases is important to ensure that the world we live in is safer from the threat of diseases.
Authors' information
All authors are from the Biodefence Centre, Headquarters of the Medical Corps, Singapore Armed Forces. LJM (MBBS, PhD, MPH, MBA) is Head of the Centre, Associate Professor at Saw Swee Hock School of Public Health, National University of Singapore, and Visiting Consultant at the Ministry of Health, Singapore and Communicable Disease Centre, Singapore.
Authors' Affiliations
(1)
Biodefence Centre, Headquarters of the Medical Corps, Singapore Armed Forces, Singapore, Singapore
Copyright
© Ho et al.; licensee BioMed Central Ltd. 2014
This article is published under license to BioMed Central Ltd. This is an Open Access article distributed under the terms of the Creative Commons Attribution License (http://creativecommons.org/licenses/by/4.0), which permits unrestricted use, distribution, and reproduction in any medium, provided the original work is properly credited. The Creative Commons Public Domain Dedication waiver (http://creativecommons.org/publicdomain/zero/1.0/) applies to the data made available in this article, unless otherwise stated.