Study Protocol

Open Access
Executive functioning in TBI from rehabilitation to social reintegration: COMPASS goal, a randomized controlled trial (grant: 1I01RX000637-01A3 by the VA ORD RR&D, 2013–2016)
Military Medical Research
2015
2:32
Received: 8 August 2015
Accepted: 30 October 2015
Published: 30 November 2015
Abstract
Background
Traumatic brain injury is a major health problem that frequently leads to deficits in executive function. Self-regulation processes, such as goal-setting, may become disordered after traumatic brain injury, particularly when the frontal regions of the brain and their connections are involved. Such impairments reduce injured veterans' ability to return to work or school and to regain satisfactory personal lives. Understanding the neurologically disabling effects of brain injury on executive function is necessary for both the accurate diagnosis of impairment and the individual tailoring of rehabilitation processes to help returning service members recover independent function.
Methods/design
The COMPASSgoal (Community Participation through Self-Efficacy Skills Development) program develops and tests a novel patient-centered intervention framework for community re-integration psychosocial research in veterans with mild traumatic brain injury. COMPASSgoal integrates the principles and best practices of goal self-management. Goal setting is a core skill in self-management training by which persons with chronic health conditions learn to improve their status and decrease symptom effects. Over a three-year period, COMPASSgoal will recruit 110 participants with residual executive dysfunction three months or more post-injury. Inclusion criteria combine both clinical diagnosis and standardized scores that are >1 SD from the normative score on the Frontal Systems Rating Scale. Participants are randomized into two groups: goal-management (intervention) and supported discharge (control). The intervention is administered in eight consecutive, weekly sessions. Assessments occur at enrollment, post-intervention/supported discharge, and three months post-treatment follow-up.
Discussion
Goal management is part of the "natural language" of rehabilitation. However, collaborative goal-setting between clinicians/case managers and clients can be hindered by the cognitive deficits that follow brain injury. Re-training returning veterans with brain injury in goal management, with appropriate help and support, would essentially treat deficits in executive function. A structured approach to goal self-management may foster greater independence and self-efficacy, help veterans gain insight into goals that are realistic for them at a given time, and help clinicians and veterans to work more effectively as true collaborators.
Keywords
Executive functionTraumatic brain injuryGoal-settingCommunity re-integrationVeteransRandomized controlled trialManualized psychosocial intervention
Trial registry
Registry: ClinicalTrials.gov Identifier - NCT01816061.
Dataset:
See Table
1
for items from the World Health Organization Trial Registration Data Set.
Table 1
Trial registration data set
| Data category | Information |
| --- | --- |
| Primary registry and trial identifying number | ClinicalTrials.gov NCT01816061 |
| Date of registration in primary registry | March 19, 2013 |
| Secondary identifying numbers | I01RX000637-01A3 D0637-R |
| Source(s) of monetary or material support | United States Department of Veterans Affairs Rehabilitation Research and Development Service |
| Primary sponsor | United States Department of Veterans Affairs Rehabilitation Research and Development Service |
| Contact for public queries | AVL [Alexander.Libin2@va.gov], ED [Ellen.Danford@va.gov] |
| Contact for scientific queries | AVL [Alexander.Libin2@va.gov] |
| Public title | Executive Functioning in TBI from Rehabilitation to Social Reintegration: COMPASS |
| Scientific title | Executive Functioning in TBI from Rehabilitation to Social Reintegration: COMPASS |
| Countries of recruitment | United States of America |
| Health condition(s) or problem(s) studied | TBI |
| Intervention(s) | Experimental—Fifty-five participants in the intervention group will receive eight goal self-management sessions. Control—Increased hours of patient-provider interactions. |
| Key inclusion and exclusion criteria | Ages eligible for study: 18–55 Sexes eligible for study: Both Accepts healthy volunteers: Yes Inclusion and Exclusion Criteria: See Table 2. |
| Study type | Interventional Allocation: Randomized Intervention Model: Parallel assignment Masking: Single blind (outcome accessor) Primary Purpose: Treatment Phase 0 |
| Date of first enrollment | December 2014 |
| Target sample size | 110 |
| Recruitment status | Recruiting |
| Primary outcome(s) | Change in Baseline in CRIS assessment at 2 months and 5 months. Change in Baseline in FrSBe assessment at 2 months and 5 months. |
| Key secondary outcomes | N/A |
Protocol version
Issue Date: 21 Aug 2015
Protocol Amendment Number: 06
Author(s): AVL, JS, MMS, ED, NS, WP, JG, LR, DB, SC, MP, BT, MB, AD.
Revision Chronology (Institutional Review Board (IRB))
27 Jan 2014 Original.
08 Aug 2014 Amendment 01: Primary reason for amendment – Submission of COMPASSgoal manual; updated recruitment procedures; addition of study staff.
24 Sep 2014 Amendment 02: Primary reason for amendment—Updated assessments to reflect DSM-V [1].
11 Dec 2014 Amendment 03: Primary reason for amendment—Updated assessments based on access issues; clarified control group protocol; changes to consent forms; addition of study staff.
26 Jan 2015 Amendment 04: Primary reason for amendment—Updated manual and consent forms, addition of study staff.
01 Apr 2015 Amendment 05: Primary reason for amendment—Updated recruitment flyers; addition of retention letters.
21 Aug 2015 Amendment 06: Primary reason for amendment—Removal of assessment; updated consent forms; addition of recruitment brochure.
Roles and responsibilities
Contributorship
AVL conceived of the study. JS, MMS, NS, WP, MP, BT, MB, and AD participated in the initial study design, and AVL, JS, MMS, ED, DB, and SC led the implementation of the study. NS guided statistical implementation and is conducting primary statistical analysis. All authors contributed to the refinement of the study protocol and edited and approved the final manuscript.
Sponsor contact information
Trial Sponsor: United States Department of Veterans Affairs Rehabilitation Research and Development Service.
Contact Name: Patricia Dorn, PhD
Address: 810 Vermont Avenue, NW (10P9R)
Washington, DC 20420
Telephone: 202-443-5756
Fax: 202-495-6197
Sponsor and funder
This funding source reviewed the study design prior to implementation but will have limited to no role during its implementation, data analysis, and results publication.
Committees
No committees are involved in the execution of this study.
Background
Background and rationale
Traumatic brain injury (TBI) is a direct cause of long-term cognitive disability in returning United States (U.S.) veterans [
2
]. TBI is also an established risk factor for psychological health and community re-integration [
3
,
4
]. Studies emphasize the dramatic effects of neurological injuries among active duty troops serving in conflicts in Afghanistan and Iraq. (see Fig.
1
).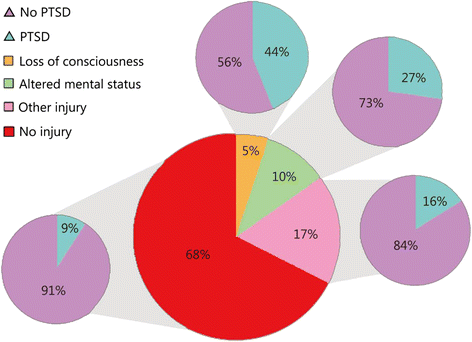 There is mounting evidence that suggests that executive dysfunction due to central nervous system (CNS) insult causes both short-term and long-term consequences, resulting in poor goal-directed behavior [3, 5–8] and significant decreases in independent functioning in both soldiers and returning veterans. Given the necessity for operational effectiveness in the battlefield environment, executive function symptoms become significant for the military because they jeopardize active duty troops' capacity for crucial decision making [9, 10]. At the same time, while remaining undetected, neurological problems cause poor self-management skills, resulting in maladjustment and a low quality of life in returning military veterans [3, 11, 12]. In this study, we employ the definition of TBI by the U.S. Individuals with Disabilities Education Improvement Act of 2004, i.e., "…an acquired injury to the brain caused by an external physical force, resulting in total or partial functional disability or psychosocial impairment, or both, that adversely affects a person's professional and educational performance in one or more areas, such as cognition; language; memory; attention; reasoning; abstract thinking; judgment; problem-solving; sensory, perceptual, and motor abilities; physical functions; information processing; and speech. The term does not apply to brain injuries that are congenital or degenerative, or to brain injuries induced by birth trauma [13]." The exposure to stressors from combat, including explosive blasts and loss or injury to the self or to comrades, can lead to significant problems when transitioning back to civilian life post-combat [14, 15]. Due to advances in medicine and body armor, soldiers are surviving blasts or explosions that may have previously resulted in severe injury or death during combat. Following the U.S. defense causality report in November 2009, the Institute of Medicine updated its statistics to show that "fatality-to-wounded ratios have been 1:5.0 for… [conflict in Afghanistan] and 1:7.2 for…[conflict in Iraq] [14, 16] compared with 1:2.6 in Vietnam and 1:1.7 in World War II [14, 17]."
Many veterans returning from the wars in Afghanistan and Iraq may have experienced TBI [12], the significance of which is underscored by a national study undertaken by the RAND (Research ANd Development) Corporation commissioned by the U.S. Office of the Secretary of Defense for Health Affairs to gauge the effect of TBI on the lives of veterans and their families [18]. Even if there are no other co-existing physical impairments, TBI and post-traumatic stress disorder (PTSD) are enough to significantly hinder a veteran's successful progression into active community participation and employment. Physical factors affecting community re-integration in veterans with polytrauma and TBI include pain, PTSD-related anger, and depression. Among the psychosocial factors that affect community functioning in returning veterans are social isolation, poor problem-solving of everyday difficulties, and a lack of motivation to change.
Objectives
The main objective of the COMPASSgoal study is to determine whether veterans who have executive dysfunction due to mild traumatic brain injury (mTBI) will benefit from a novel goal self-management intervention, COMPASSgoal, compared to veterans who receive case management support that represents the current standard of care enhanced by an increased number of communications with VA staff.
The specific aim and hypotheses of the COMPASS
goal
study are:
Study Specific Aim 1: To develop, implement, and evaluate a new goal self-management intervention (COMPASSgoal) for veterans with executive dysfunction due to mTBI and to investigate how executive functioning is linked to the performance of everyday tasks and community functioning.

Study Hypothesis 1: Participants in the COMPASSgoal group will have higher community integration scores over time than participants in the supported discharge group matched on executive dysfunction score.

Study Hypothesis 2: Individuals' psychosocial profiles (emotional status, resilience, and level of PTSD) will mediate the responsiveness to the COMPASSgoal intervention, measured through standardized experimental performance of everyday tasks, in veterans with impaired executive function due to mTBI.
Trial design
The COMPASSgoal study is designed as a randomized, controlled, single blind (outcome accessor) efficacy study with two parallel groups. The primary endpoint of the study occurs with final data collection at time point three, three months after the completion of either group. Participants will be randomly assigned to either control or experimental groups with a 1:1 ratio based on Wei's Urn randomization algorithm [66]. Over the three-year course of the COMPASSgoal project, we will screen, consent, and baseline 110 veterans, aged 18–55 years, who have been diagnosed with mTBI. All participating veterans undergo a battery of tests measuring executive function, real-world performance, TBI self-efficacy, emotional status and PTSD, community integration, and quality of life. Each potential participant receives additional screening of TBI and executive dysfunction to determine intervention eligibility. Each participant also receives a neuropsychological interview, and COMPASSgoal investigators discuss each participating veteran with his/her VA case manager, as applicable. Subsequently, veterans are randomized to intervention and control groups. The former receives the COMPASSgoal self-management intervention developed to support vulnerable transitions identified during the first 6 months of the project. The latter receives focused, but standard-of-care, support from the VA TBI Research team. Intervention-group veterans receive weekly eight one-on-one goal management sessions of up to 90 minutes over a period of two months. Veterans in both the intervention and control groups receive assessments before, directly following, and three months following the completion of the COMPASSgoal intervention or supported discharge process. The data will be modeled longitudinally and on multiple levels to identify vulnerable transitions and predictors of community integration/participation outcomes. The findings will form the basis for clinical practice guidelines.
The three-year, multi-phase study explores two inter-related hypotheses. Hypothesis 1 is explored through a randomized controlled trial (RCT) that tests the efficacy of a newly developed intervention, COMPASSgoal, in 110 young to middle-aged veterans with mTBI assigned to intervention goal self-management or supported discharge groups. Hypothesis 2 is aimed at studying the multilevel relationships between four sets of variables (neurological, psychological, behavioral, and social) measured repeatedly for the duration of the project.
Ethics and dissemination
Research ethics approval
The protocol, recruitment procedures, consent forms, and HIPAA authorizations were reviewed and approved by the DC VAMC IRB and Research & Development Committees prior to recruitment initiation. The PI provides annual progress reports to the IRB for continuing reviews annually.
Protocol amendments
Any significant modifications to the study protocol, such as changes to the study population, design, or implementation procedures, will be submitted to the IRB for approval prior to implementation.
Consent or assent
Once a potential subject is identified in the DC VAMC TBI database or through the TBI clinical team, a COMPASSgoal team member, researcher or clinician, as is appropriate to each veteran's circumstances, approaches the veteran and/or family members about the study. Special care is taken to explain the nature of the study and all risks/benefits to the individual in language that is appropriate for his/her comprehension level. In addition, study investigators take special precautions to ensure that potential study participants fully understand the consent form and authorization for the release of protected health information (e.g., by reviewing the consent form and answering any questions the individual may have).
Ancillary studies
Data will not be stored in a data repository for use in ancillary studies.
Confidentiality
Once written consent has been obtained, subjects are assigned a de-identified study number for data collection purposes by the PI. All collected data are stored in a secure, locked cabinet in a locked room at the DC VAMC and in a password-protected database. Consent forms/HIPAA authorizations are stored separately from the research record to maintain confidentiality. All crosswalk documents with personal health information to the de-identified research record are kept in a locked cabinet separate from the research record. Any discussion of identifiable patient data is sent via encrypted email. Protected health information, as defined by HIPAA, will never be used for any purpose other than the research activities of this study.
Declaration of interests
The study team has no competing interests or conflicts of interest to report.
Access to data
Only IRB-approved members of the study team will have access to the data collected in this study. If members of the research team leave the team, they will no longer have access to the data.
Ancillary and post-trial care
The DC VAMC will provide necessary medical treatment if participants are injured as a result of their participation in this study, unless they were injured because they did not follow the instructions they were given. Eligibility for other VA services will not be affected by participation in this trial. Following completion of COMPASSgoal, participants may continue to engage in medical care but will not continue to receive the COMPASSgoal intervention or support from the study team.
Dissemination policy
Trial results
No publication restrictions are in place for this trial.
Authorship
Publications resultant from the COMPASSgoal study will comply with the International Committee of Medical Journal Editors [104].
Reproducible research
The study protocol will be disseminated to the general public through this publication.
Results
At this writing, COMPASSgoal has begun testing and has enrolled 20 % of its target. The study COMPASSgoal Manual has been developed via the qualitative Phase I and is now implemented consistently during treatment sessions. See Fig. 3 to review the study execution algorithm.
Discussion
Limitations
The recruitment of participants from the mTBI population proved to be challenging initially; however, lessons learned from the early phases of recruitment strengthened and refined the study team's approach. Originally, potential participants were required to have been discharged from interdisciplinary skilled therapies, which limited recruitment because many potential participants either re-engaged with therapy—and thereby were excluded—or ceased coming to the VA for appointments altogether upon discharge, making it difficult to recruit participants face-to-face, in accordance with VA IRB policies.
Following the identification of this problem, "discharge" from interdisciplinary treatment was more clearly defined as not being currently under review at weekly polytrauma team meetings for TBI-related skilled therapy management. Recruitment opportunities increased substantially and were subsequently further enhanced by IRB-approved flyers and letters.
Generalizability
This project may be regarded as a first-stage project in which the efficacy of the method is demonstrated, and the efficiency of each component is tested. The next phase, which will follow this study, would involve the development of several projects aimed at exploring the mechanisms underlying the successful vs. non-successful adaptation of veterans to everyday life and routes for transferring the ongoing delivery of intervention to the daily routine of community-dwelling veterans with TBI.
The study will prepare the field of creating supportive care environments for necessary future studies on the utilization of best clinical practice guidelines for the everyday life of veterans and their families. Clinical and applied research will concentrate on the utility of goal self-management interventions in routine care in both home and institutional settings, such as VA hospitals and community centers. These studies will also examine the cost benefits of this approach, which are expected to be substantial because the approach will lessen the time health service providers (e.g., TBI case managers or TBI social workers) must devote to their clients. In the basic research venue, studies need to explore the links between neuroanatomical structure, executive function, and everyday problem-solving in the context of psychosocial interventional research. This research would not only help improve the quality of life for veterans with TBI and other neurological deficits but also have important social benefits, such as training relatives and immediate caregivers on how to engage their loved ones in meaningful, healthy, and productive activities. The methodology proposed could be utilized with technology-based and other non-pharmacological interventions to better understand the needs and preferences of different clinical populations with chronic illnesses, or physical, cognitive, and behavioral disabilities (i.e., persons with PTSD, substance abuse, disturbing behaviors, and suicidal ideation). This particular extension may elucidate the commonalities and differences among various clinical groups and provide additional tools to improve the individual care of returning veterans.
Abbreviations
ANOVA:

analysis of variance
B-IPF:

Brief Inventory of Psychosocial Functioning
BSI-18:

Brief Symptom Inventory-18
CDE:

common data elements
CNS:

central nervous system
COMPASSgoal :

Community Participation through Self-Efficacy Skills Development
COWAT:

Controlled Oral World Association Test
CRIS:

Community Reintegration of Service Members
DC VAMC:

Washington DC VA Medical Center
EFPT:

Executive Function Performance Test
EFS:

executive functional system
FrSBe:

Frontal Systems Behavior Scale
GEE:

generalized estimating equation
ICF:

International Classification of Functioning, Disability, and Health
HIPAA:

Health Insurance Portability and Accountability Act
IRB:

Institutional Review Board
LIS:

Libin Verbal-Pictorial Association Standardized Personality Test
LMM:

linear mixed model
M2PI:

Mayo-Portland Adaptability Inventory – 4, Participation Index
MANCOVA:

multivariate analysis of covariance
MEME:

multi-level model
M.I.N.I.:

M.I.N.I. International Neuropsychiatric Interview
mTBI:

mild traumatic brain injury
PASS:

Power Analysis and Sample Size Software
PCL-V:

Posttraumatic Stress Disorder Checklist for DSM-V
PTSD:

post-traumatic stress disorder
RAND:

research and development
RCT:

randomized controlled trial
SWLS:

Satisfaction with Life Scale
TBI:

traumatic brain injury
TMT:

Trail Making Test
U.S.:

United States
VA:

Department of Veterans Affairs
VHA:

Veterans Health Administration
VINCI:

VA Informatics and Computing Infrastructure
Declarations
Acknowledgments
This work was supported by Merit Review Award # I 01 RX000637-01-A3 from the United States (U.S.) Department of Veterans Affairs Rehabilitation Research and Development Service. The contents do not necessarily represent the views of the U.S. Department of Veterans Affairs or the United States Government. Statistical support for this project was provided through the MedStar Health Research Institute, a component of the Georgetown-Howard Universities Center for Clinical and Translational Science (GHUCCTS), and supported in part with Federal funds (UL1TR000101 previously UL1RR031975) from the National Center for Advancing Translational Sciences (NCATS), National Institutes of Health, through the Clinical and Translational Science Awards Program (CTSA), a trademark of DHHS, part of the Roadmap Initiative, "Re-Engineering the Clinical Research Enterprise". Tessa Hart, PhD, consulted on self-regulation theory and goal-setting best practices after TBI and led the design of the COMPASS manual. Kelly McCarron, PsyD, and Sheree Gordon, MSN, have provided written permission for the use of their personal communication with the research team.
Funding
This work is supported by Merit Review Award # I 01 RX000637-01A3 from the United States Department of Veterans Affairs Rehabilitation Research and Development Service Program. Partial logistical support for the preparatory phase of the project was provided through the MedStar Health Research Institute, a component of the Georgetown-Howard Universities Center for Clinical and Translational Science, and supported by Grant U54 RR026076-01 from the National Center for Research Resources, a component of the National Institutes of Health. The contents of this manuscript are solely the responsibility of the authors and do not necessarily represent the views of the United States Government, the Department of Veterans Affairs, the National Center for Research Resources, the National Institutes of Health, or MedStar Health.
Open AccessThis article is distributed under the terms of the Creative Commons Attribution 4.0 International License (http://creativecommons.org/licenses/by/4.0/), which permits unrestricted use, distribution, and reproduction in any medium, provided you give appropriate credit to the original author(s) and the source, provide a link to the Creative Commons license, and indicate if changes were made. The Creative Commons Public Domain Dedication waiver (http://creativecommons.org/publicdomain/zero/1.0/) applies to the data made available in this article, unless otherwise stated.
Authors' Affiliations
(1)
Mental Health Service, Washington DC VA Medical Center, Washington, USA
(2)
MedStar National Rehabilitation Hospital, Washington, USA
(3)
Physical Medicine and Rehabilitation Service, Washington DC VA Medical Center, Washington, USA
(4)
Research Service, Washington DC VA Medical Center, Washington, USA
(5)
MedStar Health Research Institute, Hyattsville, USA
(6)
Texas A&M College of Medicine, Bryan, USA
(7)
Rehabilitation Institute of Chicago, Chicago, USA
(8)
Research Service, Providence VA Medical Center, Providence, USA