On-orbit sleep problems of astronauts and countermeasures
Military Medical Research
2018
5:17
Received: 17 December 2017
Accepted: 10 May 2018
Published: 30 May 2018
Abstract
Sufficient sleep duration and good sleep quality are crucial to ensure normal physical and mental health, cognition and work performance for the common people, as well as astronauts. On-orbit sleep problem is very common among astronauts and has potential detrimental influences on the health of crewmembers and the safety of flight missions. Sleep in space is becoming a new medical research frontier. In this review we summarized on-orbit sleep problems of astronauts and six kinds of causes, and we presented the effects of lack of sleep on performance as well as mental and physical health, then we proposed seven kinds of countermeasures for sleep disturbance in spaceflight, including pharmacologic interventions, light treatment, crew selection and training, Traditional Chinese Medicine and so on. Furthermore, we discussed and oriented the prospect of researches on sleep in space.
Keywords
AstronautOn-orbitSleepCountermeasureHuman spaceflight
Background
It is well known that good sleep is very important for keeping normal physical and mental health, cognition and work performance for common people. Good sleep generally includes sufficient sleep duration and good sleep quality. Unfortunately, evidence has consistently shown that disrupted sleep is a very common and important problem among astronauts [1, 2]. In human spaceflight, sleep duration and sleep quality of astronauts were adversely affected by combined special factors including microgravity, isolation, monotonous repetition, high vigilance workload and so on. Sleep problems could impair the work performance and health of crewmembers which could ultimately influence the safety of flight missions. NASA (National Aeronautics and Space Administration) has listed sleep deprivation and circadian rhythm changes as important risk factors during long-term flight [2]. On the basis of several times of short-term manned spaceflight practices, China has attached more and more importance to on-orbit sleep problems of astronauts and considered it as one of the key factors for keeping human performance capabilities in medium and long-term spaceflight [3]. In recent years, researchers focus on the effects of space flight on sleep and the countermeasures which gradually become a new frontier of space medicine [1–4]. In this article, the research progress in this field was reviewed and analyzed to provide reference for the study of sleep medicine in medium and long-term human spaceflights, so as the circumstances for similar extreme environmental practitioners in China.
On-orbit sleep problems of astronauts and causes
Effects of lack of sleep on performance and mental and physical health
Many ground investigations showed that sleep insufficiency would affect human physical and mental health, and induce performance degradation [30–33]. A report on the US Challenger space shuttle accident posited that lack of sleep and irregular work schedule were important reasons for senior managers making critical decision error [34].
Up to now, there is few research on cognitive performance of human in spaceflight, especially related to sleep insufficiency. In the retrieved eight tests on orbit, five tests showed that there was a negative effect on cognitive performance including attentive search, short-term memory, tracking operation, careful operation or dual task, two tests showed no effect, and one showed a slightly positive effect [2, 14, 27, 35–38]. Dijk et al. [14] analyzed the relationship between the cognitive performance and sleep in flight and found that the performance of most astronauts declined one week before the launch, with a further reduction in flight and slow recovery after flight. Both performance degradation in flight and performance improvement post flight were related to REM sleep. Nechaev et al. analyzed the error data of 28 astronauts and 342 weeks of 14 missions on the Mir space station and found that the error rate was significantly related to the deviation degree of the normal sleep-wake cycle [39].
Compared with the relatively scarce space tests, a large number of studies based on ground simulations, which focused on the effects of sleep insufficiency, have been carried out [40–44]. These results showed that sleep less than 6 h during two consecutive nights could negatively affect cognitive performance, such as decreased response time, increased error, impaired working memory, and so on. Moreover, the impaired performance would last within 1 week. If this condition was further extended, negative effects on cognitive performance would be gradually accumulated which showed a much obvious dose-time effectiveness relationship [40]. Furthermore, the effect of chronic sleep deprivation on performance was as similar as acute total sleep deprivation. Van Dongen et al. [40] reported that 4–6 h of sleep for 14 consecutive nights was equivalent to 48 h or 24 h of sleep deprivation. Belenky et al. [41] found that sleeping for less than 6 h in 7 consecutive nights caused impaired performance, hardly returned to normal levels, even after 3 nights of sleep free.
In addition to performance impairment, other negative psychological and physiological health problems caused by lack of sleep have also attracted researchers. In 2009, NASA reported that 36 h of sleep deprivation deteriorated the emotional state of the participants including energy level, arousal state, motivation and concentration [45]. In 2010, Van der Helm et al. [46] found that 30 h sleep deprivation resulted in that participants were unable to correctly identify two types of facial expressions, anger and pleasure. This may be an important reason for the social relation problems of crews in the long-term spaceflight. In 2014, Minkel et al. [47] reported that one night of sleep deprivation could lead to the level of cortisol in a quiet state, and further increase when participants accepted social stress, and it may adversely affect the long-dated health.
Considering astronauts' living environment including confinement, isolation, and other factors, some scholars have carried out researches on the effects of sleep deprivation combined with restrictions. Chaumet et al. [48] found that the tendency of adventure decreased in the 36 h sleep deprivation, while the impulsiveness of that increased with normal sleep in the closed environment. Spitznagel et al. [49] reported that sleep deprivation and cold exposure for 53 h had a superimposed effect on performance impairment. NASA had completed a 45 d confined experiment named "Hera" experiment with four participants on July, 2017. During Hera, all crews were required to sleep 5 h per night of 1 week, in the rest 2 days of which they could sleep 8 h for recovery. The purpose of this study was to investigate the effects of countermeasures on sleep deprivation under simulated spaceflight isolation [50]. The results of this research have not been reported yet.
Since 2006, our team has carried out a series of studies about the effects of 72 h sleep deprivation on human physiology, psychology, performance and countermeasures in confined and isolated environment. Although the situation of 72 h sleep deprivation in space had never been reported yet, the effect of sleeping 6 h per night in consecutive beyond 2 months might be analogical. With the consideration of further long-term spaceflight, for example, the Mars mission could be more than 1 year, the situation of 72 h sleep deprivation could not be entirely ruled out. Furthermore, we could investigate the effects of 24 h, 36 h and 48 h sleep deprivation within 72 h schedule. It was also important for the success of the current spaceflight missions. The results of the research on the countermeasures will be briefly described in the next section. The following are the main results of our previous works:
Countermeasures for sleep disturbance in spaceflight
Summary and prospect
We summarized on-orbit sleep problem of astronauts and countermeasures as Fig.
2
.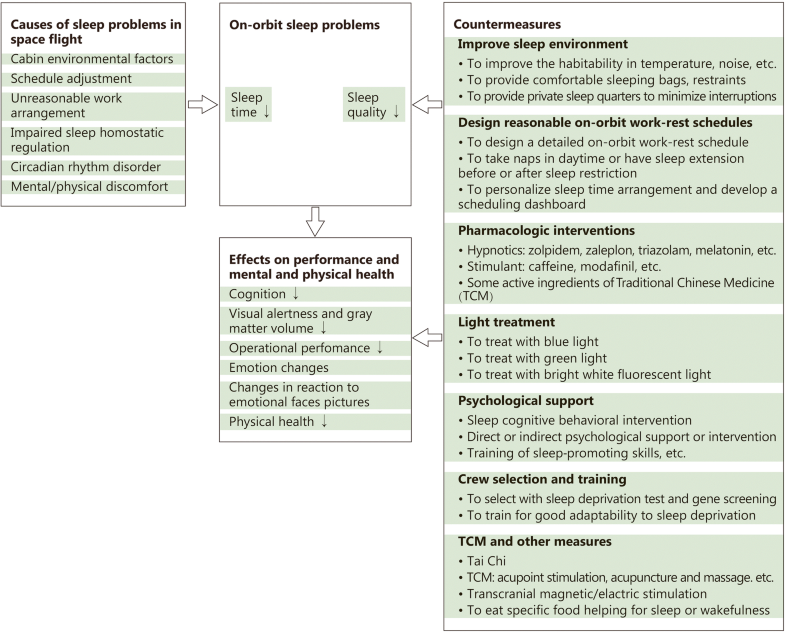 In spaceflight, sleep insufficiency and worse sleep quality are common problems for astronauts. The main causes of sleep disturbance in spaceflight include the confined cabin, the adjustment of work-rest schedule, the unreasonable working arrangement, the impaired sleep homostatic regulation, the circadian rhythm desynchrony, the psychological/physical discomfort, etc. Fewer on-orbit studies about the effects of sleep on behavioral performance and lots of ground-based studies on the effects of sleep deprivation (restriction) indicated that sleep loss would cause the decline of cognition and operation performance. But the effects are complex and it might be related to the factors such as the type of cognitive and operation work. In addition, sleep deprivation also affects mood state and the secretion of some hormones such as cortisol, thus bringing potential hazard to health. Therefore, sleep disturbance is an important risk factor in medium and long term manned spaceflight, especially in interstellar travel. Next, researches about the effects of sleep on immune function, hormone secretion, gastrointestinal function and cardiovascular health should be conducted; further study about the effects of sleep disturbance on behavioral performance and group dynamics on-orbit need to be carried out.
The countermeasures against sleep problems in spaceflight include improving sleep environment, designing reasonable on-orbit work-rest schedule, pharmacologic interventions, light treatment, psychological support, crew selection and training, TCM and so on. These measures are often rationally integrated according to the mission characteristics and the practical resource allocation ability. Although some countermeasures have been used on orbit, the effects and the mechanism still need to be further researched. Among them, drug screening and the development of new preparations should be attached with special importance. As a new technology, light treatment is being used and tested on ISS, which should also be considered in the design and construction of Chinese space station. Specific selection and training of crew, especially gene selection, as a potential method, needs to be further tested and verified. Some promising measures such as TCM and transcranial magnetic/electric stimulation have not yet been applied in flight. More ground-based researches and preparations should be carried out, and the on-orbit tests need to be conducted as soon as possible.
Conclusions
The research on sleep problems is becoming a new frontier of aerospace medicine. The effects of spaceflight on sleep and the countermeasures need to be further studied. The research achievements in this field will not only ensure the safety, health and performance of astronauts in space, but also benefit people living on earth.
Abbreviations
fMRI:

Functional nuclear magnetic resonance imaging
ISS:

International space station
NASA:

National Aeronautics and Space Administration
POMS:

Profile of Mood States Scale
REM:

Rapid eye movement
SSLA:

Solid-state lighting assembly
SWS:

Slow-wave sleep
TCM:

Traditional Chinese Medicine
Declarations
Acknowledgements
The authors are grateful to Xiao-Lu Jing, Xue-Yong Liu, Hai-Bo Qin, Jun Wang, Shuang Zhao, Bing-Mu Xin, Qiong Xie and Zhi-Jun Xiao for supplying technical and translation assistance.
Funding
This work was supported by the Manned Spaceflight Program of China, the Advanced Space Medio-Engineering Research Project of China (2014SY54A0001).
Availability of data and materials
All the relevant data and materials are presented in this article.
Authors' contributions
BW is composer of this article, the other authors YW, XRW, DL, DX, FW participated in material collection and the article polish. All authors have read and approved the final manuscript.
Ethics approval and consent to participate
Not applicable.
Consent for publication
Written informed consent was obtained from the person for publication of this review and any accompanying images. A copy of the written consent is available for review by the Editor-in-Chief of this journal.
Competing interests
The authors declare that they have no competing interests.
Open AccessThis article is distributed under the terms of the Creative Commons Attribution 4.0 International License (http://creativecommons.org/licenses/by/4.0/), which permits unrestricted use, distribution, and reproduction in any medium, provided you give appropriate credit to the original author(s) and the source, provide a link to the Creative Commons license, and indicate if changes were made. The Creative Commons Public Domain Dedication waiver (http://creativecommons.org/publicdomain/zero/1.0/) applies to the data made available in this article, unless otherwise stated.
Authors' Affiliations
(1)
State Key Laboratory of Space Medicine Fundamentals and Application, China Astronaut Research and Training Center, Beijing, People's Republic of China