The origin and role of innate lymphoid cells in the lung
Military Medical Research
2016
3:25
Received: 28 March 2016
Accepted: 2 August 2016
Published: 19 August 2016
Abstract
Innate lymphoid cells (ILCs), a newly identified member of the lymphoid population, play a critical role in the transition from innate to adaptive immunity in host defense. ILCs are important in mucosal barrier immunity, tissue homeostasis, and immune regulation throughout the body. Significant alterations in ILC responses in lung diseases have been observed and reported. Emerging evidence has shown that ILCs are importantly involved in the pathogenesis and development of a variety of lung diseases, i.e., helminth infections, allergic airway inflammation, and airway hyper-responsiveness. However, as a tissue-resident cell population, the role of ILCs in the lung remains poorly characterized. In this review, we discuss the role of ILCs in lung diseases, the mechanisms underlying the ILC-mediated regulation of immunity, and the therapeutic potential of modulating ILC responses.
Keywords
Innate lymphoid cellsInnate immunityLung diseasesAirwayCell interactionCytokines
Background
Innate lymphoid cells (ILCs) are emerging as an important cell population of innate immunity and play complex roles in lymphoid tissue formation, tissue remodeling, tissue stromal cell homeostasis, and regulation of host responses to infection and inflammation. Compared to adaptive lymphocytes, ILCs are relatively rare in lymphoid tissue, but they populate barrier surfaces, such as the skin, intestine, and lung, as well as in adipose and some mucosal-associated lymphoid tissues [
1
–
3
]. Compared to typical lymphoid cells, ILCs are characterized by three main features: 1) the absence of recombination activating gene (RAG)-dependent rearrangement of antigen receptors; 2) a lack of phenotypical markers of myeloid cells and dendritic cells; and 3) particular lymphoid morphology [
4
]. The prototypes of the ILCs family are natural killer (NK) cells and lymphoid tissue-inducer (LTi) cells, which were discovered in 1975 and 1997, respectively [
5
,
6
]. Recently, other members of the ILC family have been characterized. Based on their phenotypical and functional characteristics, ILCs are categorized into three subgroups. ILC1s include NK cells, which produce interferon-γ (IFN-γ). ILC2s produce type 2 cytokines, e.g. IL-5 and IL-13, and are dependent on GATA-binding protein 3 (GATA3) and retinoic acid receptor-related orphan receptor-α (ROR-α) for their development and function. ILC3s include all ILC subtypes that produce IL-17 and/or IL-22, and they depend on the transcription factor ROR-γt for their development and function (Fig.
1
) [
2
,
7
].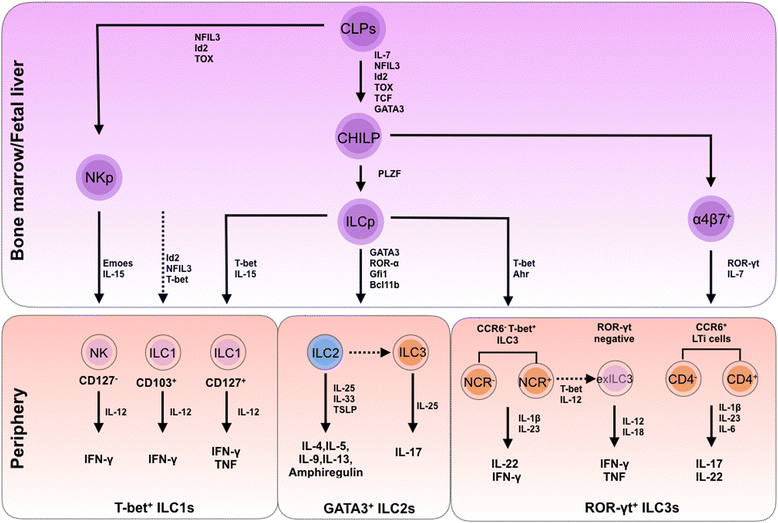 The molecular and cellular components of the innate and adaptive immune systems influence and regulate both lung homeostasis and the development of lung diseases. The emerging ILC family has been shown to have critical roles in the initiation, modulation, and resolution of lung diseases. Studies using mouse models indicated that ILCs play an important role in the remodeling of damaged lung tissue following influenza virus infection, contribute to the exacerbated allergic asthma induced by viruses [8–10], promote the release of inflammatory mediators in allergic lung inflammation [11] and are involved in the induction of pulmonary fibrosis [12]. Human studies showed that ILC responses in pulmonary diseases are substantially altered. These findings suggest broad roles of ILCs in lung physiological and pathological process. In this review, we address the origin, development, and heterogeneity of ILCs, and the roles of ILCs in lung homeostasis and diseases; we will then discuss potential novel strategies of intervention in lung diseases by targeting ILCs.
Conclusions
Our knowledge of ILC development and regulation and their roles in lung diseases has been greatly advanced by recent research. However, a better definition of innate immune cells, i.e., a universal consensus on the markers for ILCs in humans and mice, is needed. At the cellular and molecular level, the interactions between ILCs and other immune and tissue cells, as well as the mechanisms involved in these interactions, need to be addressed. A critical appraisal of translational studies is also expected, including the determination of the expression profiles of these cells in patients and the ILC responses to currently used medications. Furthermore, several questions regarding the potential plasticity of ILC populations, ILCs' novel functions, and the regulatory pathways affecting ILC responses should be addressed using animal approaches. Knowledge of ILC biology and their roles in resting conditions and disease states will be necessary for us to better understand the mechanisms of lung diseases and to develop novel therapeutic options for these diseases.
Abbreviations
Ahr, Aryl hydrocarbon receptor; CHILP, Common helper innate lymphoid precursor; CLPs, Common lymphoid progenitors; COPD, Chronic obstructive pulmonary disease; CRTH2, Chemoattractant receptor expressed on Th2 cells; Eomes, Eomesodermin; FALC, Fat-associated lymphoid clusters; GATA3, GATA binding protein 3; HPCs, Hematopoietic progenitor cells; Id2, Inhibitor of DNA binding 2; IFN-γ, Interferon-γ; ILC1s, Group 1 ILCs; ILC2s, Group 2 ILCs; ILC3s, Group 3 ILCs; ILCps, ILC progenitors; ILCs, Innate lymphoid cells; IRF4, Interferon regulatory factor 4; LP, Lamina propria; LT, Lymphotoxin; LTi, Lymphoid tissue-inducer cells; NCR, Natural cytotoxicity receptors; NFIL3, Nuclear factor interleukin-3; NKps, NK cell precursors; NKs, Natural killer cells; PGD2, Prostaglandin D2; PLZF, Promyelocytic leukemia zinc finger; RAG, Recombination activating gene; ROR-α, Retinoic acid receptor-related orphan receptor-α; ROR-γt, Retinoic acid receptor-related orphan receptor-γt; SCA-1, Stem cell antigen 1; SCF, Stem cell factor; TCF1, T cell factor 1; Th2, T helper 2 cell; TNF, Tumor necrosis factor; TOX, Thymocyte selection–associated high-mobility group box protein; TSLP, Thymic stromal lymphopoietin
Declarations
Acknowledgements
Not applicable.
Funding
This work was supported by the USA National Institutes of Health Grant R01-HL-079669 (J.F.), USA National Institutes of Health Grant R01-HL076179 (J.F.), USA National Institutes of Health Grant R56-HL-123882 (J.F.), and USA VA Merit Award 1I01BX002729 (J.F.), and the Zhejiang Provincial Program for the Cultivation of High-level Innovative Health Talents (Q.S.).
Availability of data and materials
Not applicable.
Authors' contributions
DML collected the data and drafted the manuscript. QS conceived and designed the study. JF conceived and designed the study, reviewed and finalized the manuscript. All authors read and approved the final manuscript.
Competing interests
The authors declare that they have no competing interests.
Consent for publication
Not applicable.
Ethics approval and consent to participate
Not applicable.
Open AccessThis article is distributed under the terms of the Creative Commons Attribution 4.0 International License (http://creativecommons.org/licenses/by/4.0/), which permits unrestricted use, distribution, and reproduction in any medium, provided you give appropriate credit to the original author(s) and the source, provide a link to the Creative Commons license, and indicate if changes were made. The Creative Commons Public Domain Dedication waiver (http://creativecommons.org/publicdomain/zero/1.0/) applies to the data made available in this article, unless otherwise stated.
Authors' Affiliations
(1)
Department of Cardiovascular Surgery, the Children's Hospital of Zhejiang University School of Medicine, Hangzhou, China
(2)
Department of Surgery, University of Pittsburgh School of Medicine, Pittsburgh, USA
(3)
Research and Development, Veterans Affairs Pittsburgh Healthcare System, Pittsburgh, USA