Applications of CRISPR-Cas9 mediated genome engineering
Military Medical Research
2015
2:11
Received: 13 February 2015
Accepted: 21 April 2015
Published: 9 May 2015
Abstract
Targeted mutagenesis based on homologous recombination has been a powerful tool for understanding the mechanisms underlying development, normal physiology, and disease. A recent breakthrough in genome engineering technology based on the class of RNA-guided endonucleases, such as clustered regularly interspaced short palindromic repeats (CRISPR)-associated Cas9, is further revolutionizing biology and medical studies. The simplicity of the CRISPR-Cas9 system has enabled its widespread applications in generating germline animal models, somatic genome engineering, and functional genomic screening and in treating genetic and infectious diseases. This technology will likely be used in all fields of biomedicine, ranging from basic research to human gene therapy.
Keywords
CRISPR-Cas9Genome editingFunctional genomic screeningGene therapyAnimal model
Introduction
In the post-genome era, further defining the biological function of genome sequences and their transcripts in development and disease is a huge challenge. Targeted mutagenesis in whole animal is a powerful method to elucidate gene function in a physiological setting. The development of gene targeting, in which specific gene modification can be introduced into the animal genome through homologous recombination and embryonic stem cell technology, has revolutionized biological and biomedical studies [1]. Genetically modified animals, especially gene knockout mice, have been valuable as human disease models. The second generation of gene targeting, conditional gene targeting based on site-specific recombinases, primarily the Cre-LoxP system, enables the creation of animals carrying targeted mutations in specific cell types or in an inducible manner [2]. A new generation of genome engineering technologies based on the class of RNA-guided endonucleases, such as clustered regularly interspaced short palindromic repeats (CRISPR)-associated Cas9, and their rapid applications are now bringing a further revolution in biology and medicine [3,4]. This review will focus on the recent progress of the applications of CRISPR-Cas9-mediated genome engineering.
Conclusions and perspectives
The CRISPR-Cas9 technology, an efficient, inexpensive, fast-to-design, and easy-to-use genomic editing tool, has been rapidly applied in many fields, ranging from basic biology to translational medicine (Figure
2
). The innovative applications of the CRISPR-Cas9 system will accelerate our understanding of the mechanisms underlying development, physiology and disease. The CRISPR-Cas9 technology will also accelerate research related to military medical sciences. Genome-wide functional screening will characterize essential genes that regulate host defense against pathogens. For example, a CRISPR-Cas9 based screening identified the host genes controlling the cellular responses to anthrax, diphtheria toxins and cholera-diphtheria toxins, providing new mechanisms of pathogen toxicity [
53
,
55
]. CRISPR-Cas9-based rapid generation of targeted model organisms will significantly boost the understanding of the mechanisms of adaption to an extreme or specific environment. A recent study using PAXX(-/-) cells generated by CRISPR-Cas9 demonstrated that the PAXX gene plays a role in DNA double-strand break repair and cell survival in response to ionizing radiation [
72
]. In the immediate future, the use of the CRISPR-Cas9 system will revolutionize military medical sciences and advance the fundamental knowledge of anti-pathogen defense, radiation protection, tissue homeostasis. Cas9/sgRNA mediated genome editing provides new therapeutic strategies for infectious diseases, wound healing and tissue regeneration.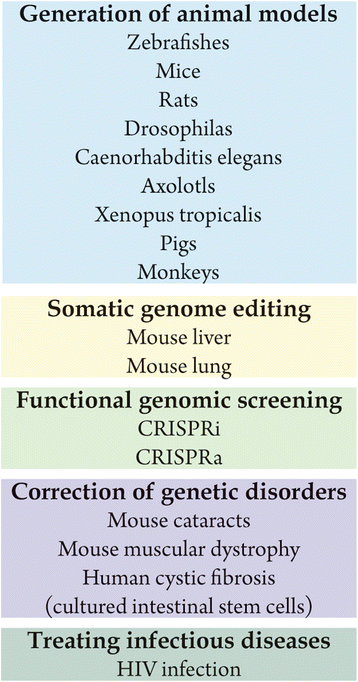 Abbreviations
CFTR:

Cystic fibrosis transmembrane conductor receptor
ChIP-seq:

Chromatin immunoprecipitation sequencing
CRISPR:

Clustered regularly interspaced short palindromic repeats
CRISPRa:

CRISPR-mediated activation
CRISPRi:

CRISPR-mediated repressing
crRNAs:

CRISPR RNAs
GeCKO:

Genome-scale CRISPR-Cas9 knockout
LTR:

Long terminal repeats
NSCLC:

Non-small cell lung cancer
PAM:

Protospacer-adjacent motif
RNAi:

RNA interference
sgRNA:

Single guide RNA
SSCs:

Spermatogonial stem cells
tracrRNAs:

Trans-activating CRISPR RNAs
Declarations
Acknowledgement
This work was supported by the Chinese National Key Program on Basic Research (2012CB945103, 2011CB504202) and National Natural Science Foundation of China (31430057).
Authors' Affiliations
(1)
State Key Laboratory of Proteomics, Collaborative Innovation Center for Cardiovascular Disorders, Genetic Laboratory of Development and Disease, Institute of Biotechnology, Beijing, China
Copyright
© Yang; licensee BioMed Central. 2015
This is an Open Access article distributed under the terms of the Creative Commons Attribution License (http://creativecommons.org/licenses/by/4.0), which permits unrestricted use, distribution, and reproduction in any medium, provided the original work is properly credited. The Creative Commons Public Domain Dedication waiver (http://creativecommons.org/publicdomain/zero/1.0/) applies to the data made available in this article, unless otherwise stated.